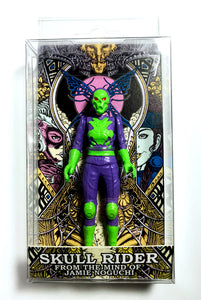 NoveltyHaus
SKULL RIDER 3.75" Resin Figure by Jamie Noguchi Guest Appearance in The New Adventures of Raven Valley! Prototype figures + Storybook Zine
Regular price
$30.00
$0.00
The rope gave way and she shot down the cliff like a stone. Spinning as she catapulted head over foot, the world tumbled before her in a blur of dark sky, red cliffs and unforgiving ground. Quickly, Raven managed to hook her thumb around the correct clamp to stop the rope and she slammed against the wall. The impact knocked her embroidered headband loose and it slipped off her head.
"No no no!" It was her favorite headband and she grabbed at it, catching it by one finger. She breathed a sigh of relief, even laughing a little at the scare. And then the rope snapped. – Excerpt from Raven Valley – Chapter 1, "Risk Vs. Reward"
We are pleased to present the FIRST chapter of the BZLBRX story!
Introducing the Raven Valley – Risk Vs. Reward Chapter of the tale! With 30 Page Story Zine Download, written by Sal Go with Illustrations and Character design by Erwin Papa and Justine Jones. Cover Illustration by Justine Jones. Skull Rider Character Designed and Sculpted by Jamie Noguchi. Fabricated, painted and packed by Noel Danger.
Each hand made figure comes packaged in a 3 inch x 5 inch resealable clear hanging tag box designed for lovely display. A digital story book mini magazine download is included in the box so you can learn the story as you examine your figures. These figures have no moving parts, are cast in resin plastic and painted with acrylic paint. Also includes BZLBRX fan club download code for continued updated material and downloads!
Order today while supplies last! Help support our project by purchasing these prototype so we can slowly work towards larger production runs and make more of this cool stuff for you to have! These figures are hand-made, hand-painted and assembled by crazy people, so they may have slight imperfections as part of the process, but they are guaranteed to be super neato, fun and inspiring!
---
Share this Product
---