• anime • history • robots • super7 • toys • tv shows • voltron
Voltron, a legendary animated series, is a remarkable example of how creativity transcends borders and cultures, blending Japanese and American elements to captivate audiences worldwide. To understand its journey, we'll explore its inception, creators, and the broader landscape of giant robot animations in Japan.
---
• glow in the dark • history • toys • universal monsters
In the annals of cinematic history, few creatures have left as indelible a mark on the collective imagination as the enigmatic "Creature from the Black Lagoon." This aquatic marvel emerged from the depths of Universal Studios' storied legacy, becoming an icon of horror and suspense that continues to captivate audiences.
The journey began in 1954 with a revolutionary 3D film, "Creature from the Black Lagoon."
---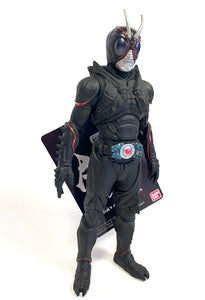 A Timeless Legacy Continues
From its inception in the '70s to today, Kamen Rider is a symbol of heroism, justice, and unwavering determination. Its ability to transcend time, reinvent itself, and captivate audiences across generations is a testament to its greatness. As Kamen Rider gallops towards the future, let's celebrate its remarkable journey and look forward to the countless adventures. Whether you're a longtime fan or a newcomer, the world of Kamen Rider is an ever-evolving tapestry of excitement and inspiration.
---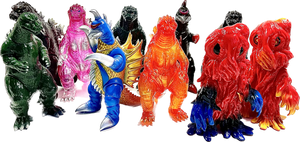 In the bustling heart of Tokyo, where tradition meets innovation, lies CCP Inc. (Character Content Production), a creative powerhouse that has been molding the essence of popular culture since its inception. Founded on August 25, 2001, by visionary entrepreneur Shuji Irie, CCP has matured into a pioneer in crafting three-dimensional models that capture the spirit of our era. With a capital of 18.5 million yen, CCP's headquarters stands tall at 1-37-12 Komichi, Adachi-ku, Tokyo, a testament to its commitment to innovation and artistic excellence.
---
SPECIAL  SALES will be held on popshop.live. Schedule below -  If you are using iPhone, or iPad, DOWNLOAD the free app. Desktop use: popshop.live https://popshop.live/discovery/stores SPECIAL CODE: TOYFUN  (use all caps) Store name: Gojigirl's Most Amazing Toys Please Join - You won't be sorry! SCHEDULE: Monday 8:30pm EST - 12:00 Midnight EST Open Blind Box Frenzy Wednesday 8:30pm EST -12:00 Midnight EST Godzilla+foes+films  Friday 6:30pm EST - 12:00 Midnight EST Hopefully Free Shipping and viewers choice